Cow dung is one of materials for making organic fertilizer. Furthermore, you need do many works for processing it and uses many related machines. As professional organic fertilizer equipment manufacturer, SEEC provides you high-quality cow dung processing machine. Meanwhile, it also provide you related information on processing. In addition, SEEC will give you a detailed description on cow manure disposal below.
Why can you use cow dung to make organic fertilizer?
Cow manure belongs to organic waste, which will cause negative effects under improper handling. Therefore, as one of effective ways to dispose cow manure, making organic fertilizer from cow manure will be best choice for you. And this characteristic depends on two aspects:
Advantage of cow manure: Cattle manure contains amounts of grass and grain, which is rich in nutrients and organic materials. Meanwhile, there are many enzymes and microorganism in it. Therefore, wide sources, low cost and high nutritive values make cow manure become good raw materials of organic fertilizer.
Harm of direct use: Because of high ammonia content and excess salt content, the direct use of cow manure will do harm to plants. Hence, you should convert it to organic fertilizer, so as to fully utilize its nutrients.
Given the above, you can make organic fertilizer from cow dung, which will improve soil condition, provide nutrients for plants and promote output of crops. The following is detailed introduction of cow dung processing machine.
What preparations should you do for manufacturing organic fertilizer from cow dung?
Composting is an important procedure for you to initially dispose cow manure. For fresh manure with 80% water content, you should dehydrate it to 50%-60%water content by SEEC solid-liquid separation machine or adding moderate crops straws or rice hull. On the contrary, for dried manure, you should add some water to adjust water content to 50%-60%. After this, you can make a compost.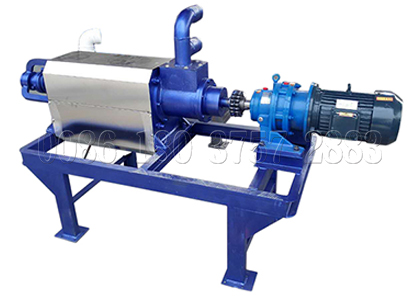 Solid-liquid Separator for Cow Dung Processing
Model: SEEC-180+
Main power: 4 kw
Pump power: 2.2 kw
Vibrating power: 0.04 kw
Boundary dimension (mm): 2010*650*1150
Function: Remove extra water content of organic waste, so as to achieve standard.
Three methods for composting cow dung with cow dung processing machine
Windrow type aerobic composting: you should pave organic raw material with windrow type. And the windrow compost pile is usually 1.5 to meters wide, 0.8 to 1.4 meters high and 50-150 meters long, which depends on compost site. Under this condition, SEEC windrow type compost turner, like crawler compost turner and self-propelled compost turner, will be your good assistant.
Groove type composting: It means you can put all raw materials in one groove for fermentation. The groove usually work with groove type compost turner, such as rail type compost turner, wheel type compost turner and chain plate type compost turner. In addition, with the help of SEEC compost turner, cow dung in fermentation groove can ferment in good environment conditions.
Composting with SEEC fermentation pot: As we all know, cow dung will produce amounts of odors, which may cause air pollution. What's more, compost piles on ground will occupy plenty of space. Therefore, you can choose SEEC fermentation pot, which provides a closed aerobic fermentation environment for raw materials. SEEC fermentation pot with air supply system, temperature and oxygen concentration occupies less space. What's more, you can customize proper size according to your requirements.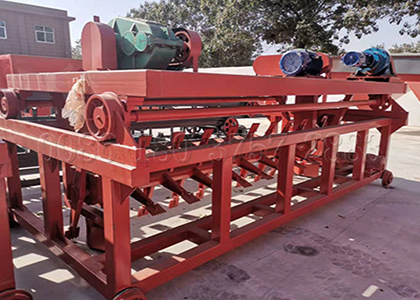 Groove type compost turner for composting cow dung
Groove Type Compost Turner for Composting Cow Dung
Model: SEEC-3000
Main power: 18.5 kw
Mobile power: 1.5 kw
Features: High output, can turn the organic waste evenly and shorten composting period
Application: It is suitable for turning various organic waste, such as cow manure, chicken manure and so on.
Two available method s to covert cow manure into fertilizer for commercial purpose
After composting, cow manure has become organic fertilizer. If you want to produce commercial cow dung fertilizer, you can make cow manure fertilizer powder or pellets. Meanwhile, both of them are convenient for storage and transportation. Here, you can choose cow dung fertilizer powder production line or pellets production line. And we will offer you detailed information below.
Cow dung powder fertilizer production line with SEEC processing machine
This production line can help to produce and pack powdery organic fertilizer made from cow manure. And it includes the following steps.
Crushing process
The purpose of crushing is to deal with cow manure caking, and create full powdery organic fertilizer. In this step, you can adopt SEEC new type vertical crusher. This type is one of our patent products, which is used for crushing materials with high moisture. Its crushing blades adopts special materials, which not only crush materials efficiently, but also have longer service life than other same kind products. You also can adopt semi-wet material crusher.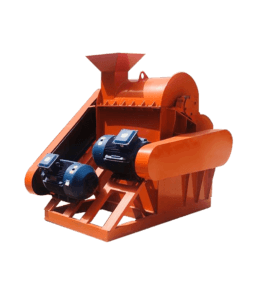 Semi-wet Material Crusher for Powdery Cow Dung Fertilizer Production
Model: SEECSF-60
Capability: 1.5-3 t/h
Power: 30 kw
Size of inlet (mm): 500*300
Boundary dimension: 1300*1450*1300
Features: It can produce fine organic fertilizer powder, which can achieve 50 mesh
Screening process
Even though the crusher has dealt with cow manure, there may be still some small caking. Therefore, you need a screen machine to remove impurities and unqualified caking. After this procedure, you can get homogeneous powdery products with high quality. For those unqualified raw materials, they will be send back to crushing by belt conveyor, and receive secondary crushing.
SEEC Rotary screen machine for screening: It is a new type of self-cleaning screen special equipment. And it is widely used for selection of various solid materials with particle sizes less than 300mm. In addition, you can set screening criteria according to your own requirements. Besides, this kind of screening machine owns high screening efficiency, low noise, small amount of dust, convenient maintenance.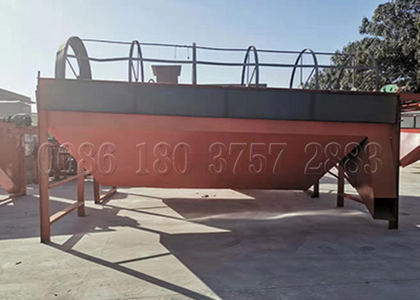 Rotary Screen Machine for Powdery Cow Dung Fertilizer Production
Model: SEECSG-1540
Power: 5.5 kw
Reducer: ZQ350
Drum speed: 16 r/min
Capacity: 5-8 t/h
Color: Orange (can be customized)
Packaging process
After screening, conveying equipment will send qualified powdery cow manure to packing machine. And if there is large output, you can place a cache material warehouse before packing machine, which is used for temporary storage of materials and maintaining the orderly operation of packing machine.
Single (Double) bucket automatic packing scale for packing: Our packing scale belongs to automatic quantitative packing scale, which is designed for quantitative packaging. You can choose single bucket or double bucket packing scale according to your actual production requirements. What's more, you can set any packing unit. This equipment adopts integrated structure, and has the characteristics of low scale height, compact structure, saving energy, high efficiency, novel appearance, easy installation and convenient maintenance.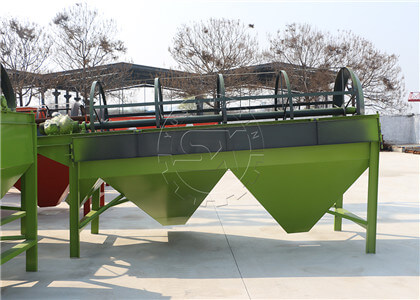 No-bucket Powdery Fertilizer Bagging Equipment
Model: SEECH-B10
Voltage: 380 v
Packing speed: 3-4 bags/h
Degree of automation: Fully automatic
Functions: It can finish feeding, filling, and sealing of organic fertilizer.
Cow dung granular organic fertilizer production line with SEEC processing machine
Compared with powdery production line, granular organic fertilizer production line is more complex and involves more equipment. It means you need invest more money and space for organic fertilizer production. This production line contains the following steps and cow dung processing machine.
crushing and mixing process
Crushing: This step is same with that of powdery production line. It will crush large blocks of raw materials, which is the preparation for granulation. With the exception of rotary screen machine, you can also choose SEEC High output hammer crusher, which is the preferred crushing machine for large-scale production of organic fertilizer.
Mixing: In this step, mixer evenly blends raw materials, which creates uniform fertilizer effects and makes preparation for granulation.
Horizontal Mixer for Cow Dung Fertilizer Production
Model: SEECWG-1630
Power: 22 kw
Mixing speed: 21 r/min
Capability: 10-15 t/h
Application: It is used for mixing multiple fertilizer evenly, so as to make uniform fertilizer effect.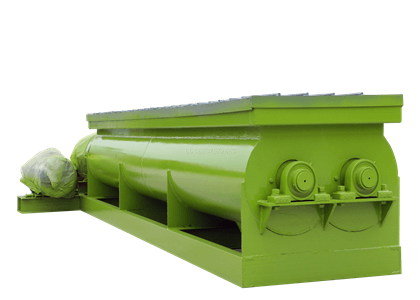 Horizontal mixer for mixing: As one kind of cow dung processing machine, it is used for mixing fermented cow manure evenly. When this equipment works, the materials in the machine is operated by two opposing rotors, and the compound motion is carried out. The blades drive cow dung to continuously turn, so as to achieve uniform results. What's more, its capacity is 2 to 15 tons per hour. You can choose different equipment according to your requirements on work efficiency.
Granulation and polishing process
In this step, powdery becomes pellets by SEEC equipment. If you need to make the pellets more beautiful and uniform, you can adopt organic fertilizer polishing machine after granulation. Furthermore, the SEEC polishing machine is featured with no return material, high ball rate, good strength, beautiful appearance and strong practicability. What's more, it is an ideal equipment for making granulated organic fertilizer.
Disc granulator: It is also called the pan pelletizer. And it adopts overall circular structure, the granulation rate can reach above 93%. In addition, this equipment has three discharging ports, which is convenient for discontinuous production, greatly reduces the labor intensity and improves the labor efficiency. In addition, its plate bottom is strengthened by a plurality of radiant steel plates, which is durable and never deformed. Therefore, it is an ideal cow manure granulating equipment.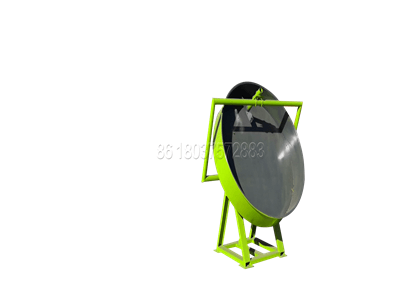 Disc Granulator for Cow Dung Fertilizer Production
Model: SEECYZ-2000
Edge height: 350mm
Rotary speed: 21 r/min
Capacity: 1.2-1.5 t/h
Total power: 4 kw
Boundary dimension (mm): 2260*1650*2250
Drying and cooling process
In this step, you can cool the temperature of cow dung pellets and remove parts of moisture in pellets. Besides, you can adopt SEEC rotary drum drying machine, rotary drum cooling machine and natural gas burner or hot blast furnace. At the same time, the three machines are used together. Natural gas burner or hot blast furnace offer hot wind to rotary drum drying machine, which can dry cow dung pellets and evaporate some moisture. Rotary drum cooling follows the drying machine, which is used for further removal of moisture and lowering temperature.
In addition, you also can apply dust collector in this step. Meanwhile, SEEC can provide you cyclone dust collector, which can collect dust from drying and cooling process, and water curtain dust collector for secondary dedusting. what's more, the later equipment collects tiny particles by water curtain from spray headers.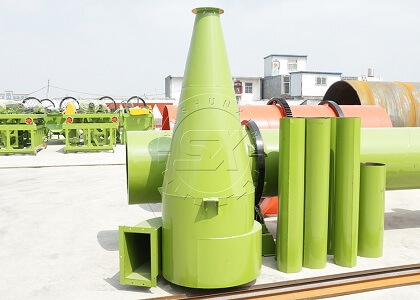 Screening process
This step is similar to that of powdery production line, and you can remove unqualified pellets by it. In addition, you can apply vibrating screen machine, which adopts the cylindrical eccentric shaft oscillator and the partial block to adjust the amplitude. Moreover, it is featured with long materials screening line and multiple screening sizes.
Coating process
As one type cow dung processing machine, the one purpose of coating is for beautiful appearance. On the other hand, you can add some other materials, like drugs for prolonging storage time.
Rotary coating machine: SEEC coating machine consists of spiral conveyor, mixing tank, oil pump and main engine. Meanwhile, it adopts powdering powder or liquid coating process, which can be used for preventing caking of organic fertilizer.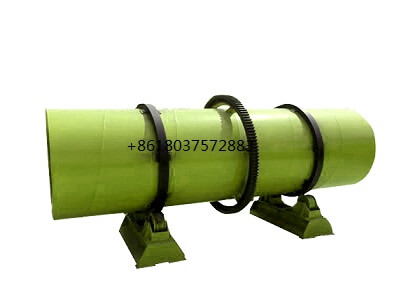 Packing process
The final step of organic fertilizer production is packaging, which makes organic fertilizer more easily to storage and transportation. At the same time, SEEC provides hot sale double (single) bucket automatic packing scale. Besides main machine, we also provide matched sewing machine, automatic counting, infrared trimming and folding machine. All these auxiliary machines can save workforce and improve work efficiency. You can make a customization according to your own requirements. In addition, for cow dung processing machine with special model, we can customize it for you.
Why should you buy cow dung processing machine from SEEC
Henan SEEC Heavy Industry Technology Co., Ltd is the leader of fertilizer equipment industry in China. And the main project of the company is the production and installation of fertilizer production line and its accessories, and the design and construction of the fertilizer engineering. In addition, the cow dung processing machine we produced is high-quality, and all indicators of equipment have reached or exceeded the national standards. In addition, we can design complete production line and production plan for you; we can provide customized equipment according to your special requirements; and we can offer you a full range of services, including professional advice, free training on equipment operation.
Tips for selection of organic fertilizer production site
The selection of plant site is also an important factor for organic fertilizer production. Because it may influence the production cost. Firstly, if circumstances allowed, you can build your plant near the source of raw materials, like cattle farm or livestock farm. Secondly, the plant should slightly far away from residential area, because of odors may be produced in manure fermentation. Thirdly, the ground in the plant shall be concrete, which can prevent soil from manure pollution. Finally, the ground in the plant shall be flat, or it will cause harm to organic fertilizer making machine. Because the operation of machines needs a stable support.