Large scale compost turner machine has higher capacity to deal with organic waste composting and accelerate compost period. Therefore, you can use it to compost various raw materials. Moreover, it is available for livestock manure, sludge and garbage, filter mud from sugar mill, worse slag cake and straw sawdust and other organic waste. Compared with small scale compost turner, large scale compost turner machine is characterized by higher working speed, high output and suitable for mass production of organic fertilizer. In addition, as a professional manufacturer of organic fertilizer equipment, SEEC Heavy Industry Technology manufactures multiple large scale compost turner machines for large production of organic fertilizer. And then we will give detailed description below.
What kind of large scale compost turner machine for sale in SEEC
Different turning machines have different highlights. If you have any problems on choosing equipment, you can inquire us, and we will provide professional advice for you. In addition, if you have other special requirements on equipment, we can design and customize corresponding equipment for you. Moreover, we dedicate ourselves to provide full service for our customers. For large scale compost turner machine, there are five types in SEEC Heavy Industry Technology.
Large-scale groove type compost turner
It is also named rail type or track type compost turning machine, which is suitable for groove type operation. In working process, blades on the rotor can blend and crush the raw materials thoroughly and adjust moisture content, oxygen content and temperature of compost pile. Moreover, you can realize turning of multiple grooves with one machine by matched shift vehicle. In this way, you can save cost and workforce.
Automated windrow compost turner of wheel type
It is equipped with fully automated electrical control system, so no operator is needed during working process. And its another advantage is lower energy consumption. Compared with traditional compost equipment, it can save 70% energy with unique high-efficient transmission mechanism under the same workload. Its energy saving and high efficiency make itself become one of the top-selling machines.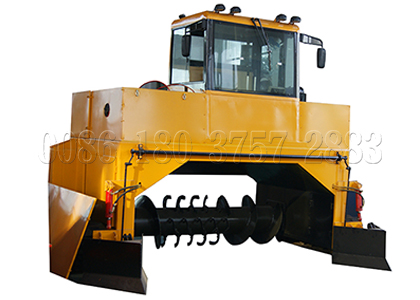 Adaptable large scale compost tuner machine in chain plate type
Like groove type and wheel type composting machine, you also can apply chain plate type composting equipment to aerobic composting of organic waste. But it is just suitable for turning organic waste in the fermentation groove. With variable frequency speed control system, it can adjust working speed according to conditions of raw materials. It is featured with stable operation, good adaptability, deep groove operation and higher turning efficiency. If you have multiple fermentation groove, one machine can accomplish turning with matched shift vehicle.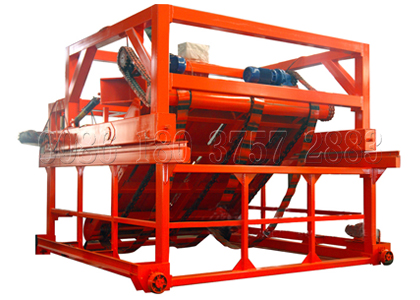 Large-scale self-propelled type windrow compost equipment
In terms of labor cost, one person can operate the equipment to move forward, backward and turn around. The rotary blades on the rotor will stir the raw materials to make them loose and uniform. In addition, it is suitable for both indoor operation and outdoor operation, which is convenient and easy for operation.
Advanced large-scale crawler type compost turning machine
This equipment is suitable for windrow compost pile. In addition to provide comfortable environment for microorganism activity, it can reduce the production of harmful and odorous gases. What's more, it adopts rubber track chassis, which can keep the whole machine stable during working process.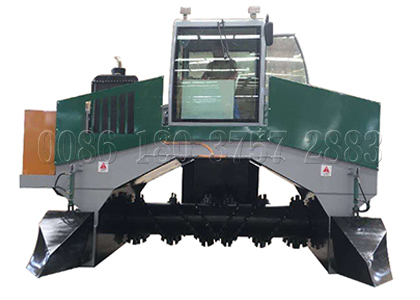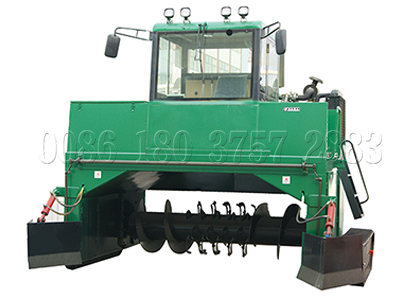 Functions of large scale compost turner machine in SEEC
When you buy large-scale equipment, you may put its function first, which will influence the whole investment returns. As a professional organic fertilizer equipment manufacturer, we also attach importance to functions and high quality. We will introduce machines' functions from the following aspects:
Shorten composting period and improve output
Proper conditions can promote microorganism activity and then accelerate composting period. By blades on rotor, wheel disc or chain type plate, the turning machine can make organic waste contact with air fully and release excess heat and moisture. In this way, they can adjust temperature and moisture, increase oxygen content of compost pile, so as to create favorable environment for microorganism in compost pile. Therefore, you can manufacture more organic fertilizer with SEEC compost turner than ordinary compost methods in the same time.
Save workforce, time and cost
Among the five kinds of large scale compost turner machine, some are automatic and some just need one operator. But for large amounts of organic waste, you may needs much more workforce and time to turning the compost pile without the help of mechanical equipment. So compost turning machine, by contrast, can save much more human and time cost.
Reasonable price offered by SEEC
Except for functions of equipment, price will be another important aspect for you to consider. However, many factors influence the price of equipment, such as quality, function, size, material quality and so on. As a manufacturer who concentrates on manufacturing various organic fertilizer making machines, we insist to adopt the best materials to produce high-quality machines. Meanwhile, we design and manufacture equipment by ourselves, some of which have gotten patents. Therefore, our products have gained unanimous appraisal from our customers.
On the other hand, we have our own factory to manufacture organic fertilizer equipment directly, so we can provide factory price for you. Furthermore, you can get many high-quality services from us. If you just plan to build a plant to produce organic fertilizer, our engineer can provide free design plan for you. And if you have problems on equipment selection, we can recommend suitable one to you.
Where can SEEC large scale compost turner machine be used?
The large scale compost turner machine is often used to deal with large-scale organic fertilizer. In addition, the equipment has no special requirements on organic waste. For the following situations, it will be the best choice.Organic fertilizer manufacturer who produces fertilizer for commercial purpose or industrial purpose. Farms with regular large amount of organic waste, such as livestock manure, poultry manure, straw and so on. Organizations that deal with sludge, agaricus bisporus farm, horticultural farm and so on.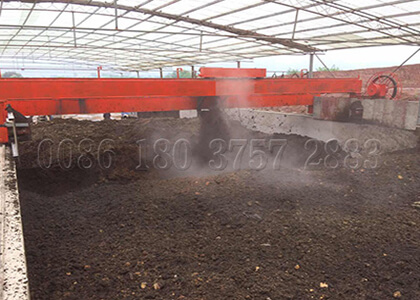 Process for large scale production of organic fertilizer
The process to produce organic fertilizer include the following three steps:
Pre-processing: Before composting, for waste with too high moisture or too low moisture, you should adjust its moisture to about 60% by dehydrating them or adding proper amount of water. Or you can add some straw to adjust moisture. In addition, you can also add some bacteria to accelerate fermentation.
Composting: Pile up organic waste together; and turn them by fermentation compost turning machine which can blend raw materials evenly. In addition, in the fermentation process, you can regularly turn the compost pile to prevent caking and adjust oxygen content, moisture and temperature. When temperature of compost no longer changes and there is no odor, the composting is finished.
Deep processing: If you want to further process organic fertilizer like granulation, polishing and packaging, you can adopt SEEC granulating equipment, organic fertilizer polishing machine and automatic packing scale.
Bright prospect for large scale production of organic fertilizer
With the improvement of living standards, people pay more attention to organic food and green food. Therefore, more and more farmers use organic fertilizer to produce high-quality agricultural products. On the one hand, the long use of chemical fertilizer will result in soil hardening, reduction of organic materials in soil and crops' ability to resist disease and adversity. On the other hand, the direct use of farm manure will cause plant diseases and insect pests, and the availability of nutritional components is low. Therefore, organic waste is used for producing organic fertilizer by composting and further process, such as farm manure, sludge and garbage and so on. Compared with chemical fertilizer, organic fertilizer is rich in trace elements and microorganism, which will make soil more fertile, increase the permeability of soil and promote the formation of granule structure.
According to factors mentioned above, it is an efficient way to convert organic waste into fertilizer by mass production. This method not only meets market demands on organic fertilizer, but also deals with plenty of waste which may pollute environment and air with improper handling.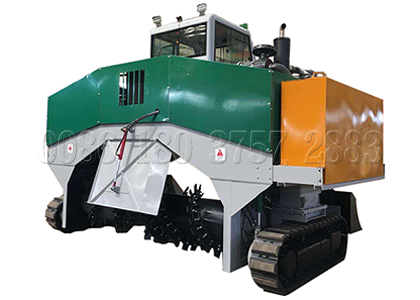 Q&A
1. Is there water spraying system on the self propelled windrow turning machine?
Yes. If you have need one, we can install water spraying system (It can add water to compost pile when the equipment turns the organic waste) on the equipment.
2.What's the power source of self propelled compost turner?
SEEC self propelled compost turner adopt diesel engine with low emission, which is from international famous brand Weichai.
3. What's the capacity of SEEC windrow turning machine of self propelled type?
| Model | SEECLDF-2300 | SEECLDF-2600 | SEECLDF-3000 | SEECLDF-3000(Full hydraulic) |
| --- | --- | --- | --- | --- |
| Width of compost pile (mm) | 2300 | 2600 | 3000 | 3000 |
| Height of compost pile (mm) | 600-1000 | 1100-1300 | 1300-1500 | 1600-1800 |
| Space between compost plies (mm) | 800-1000 | 800-1000 | 800-1000 | 100-1000 |
| Working speed (m/min) | 6-10 | 6-10 | 6-10 | 6-10 |
| Capacity (m3/h) | 500-700 | 1000-1200 | 1300-1500 | 1500-1800 |