New type organic fertilizer granulator is a kind of wet granulation machine. Therefore, you can use it for converting powdery organic fertilizer into fertilizer pellets. Because granular organic fertilizer is more convenient for transport and storage than organic fertilizer powder, granular fertilizer becomes more and more popular with users. And as organic waste converter manufacturers, we have dedicated to manufacturing various pellet making machines for more than 20 years. Here, we would like to recommend our new type organic fertilizer for granular organic fertilizer making.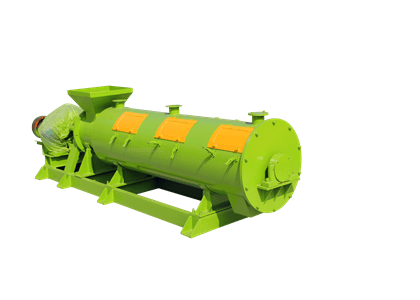 How does new type organic fertilizer granulator work?
New type organic fertilizer granulator is also called wet type stirring granulator. That is to say, certain amount of liquid or steam will be used to wet powdery organic fertilizer, so as to make granulation much easier. Meanwhile, this equipment makes use of high speed rotary mechanical agitation force and the resulting aerodynamic force to granulate. By this method, organic fertilizer powder realize the process of mixing, granulating, balling and densification in the machine. And then fine powder materials will become uniform pellets.
The structure of new type organic fertilizer granulator
This granulation equipment consists of main frame, granulation rotor with spirally arranged stirring teeth and transmission part. You can add the raw materials at the end with funnel-shaped inlet. Under the working of granulation rotor with spirally arranged stirring teeth, powdery organic fertilizer gradually converts into pellets, and these pellets will be push to the opposite end. Then you can collect granulated pellets at the opposite end of outlet, and enter further process.
What raw materials can new type organic fertilizer granulator be used for?
This machine is our patented product, which is suitable for granulation of various organic fertilizer made from organic waste. Therefore, this equipment applies to the granulation of following raw materials:
Manure of livestock and poultry: Chicken manure, pig manure and cow dung, etc.
Agricultural waste: Corn stalk, rice straw and mushroom residue, etc.
Household waste: Food waste from dining hall and restaurants, kitchen waste and so on.
Industrial waste: Soya bean meal, filter mud from sugar mill and son on.
Other uncommon waste: Sewage sludge, vermicompost, bat guano and so on.
Comparison between pan pelletizer and new type organic fertilizer granulator
Similarities
Both pan pelletizer and new type organic fertilizer granulator are availble for graulating and adopt wet type granulation. In addition, organic pellets made by the two machines are higher in quality, more beautiful in appearance, higher in granulating rate.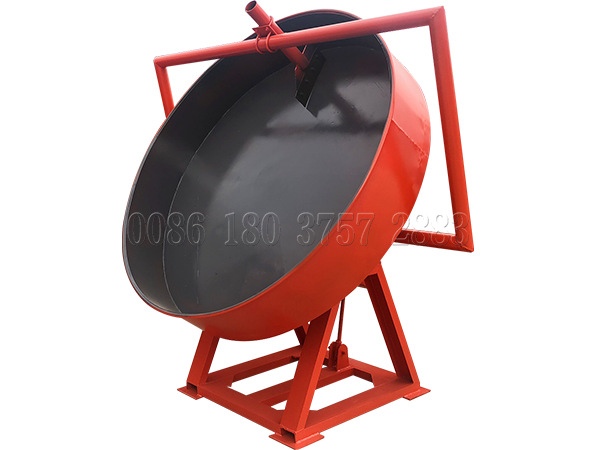 Differences
Even though they are similar in many aspects, such as function, principle of granulation and quality of finished pellets, they still have many differences.
Firstly, they are different in methods of granulation. The pan pelletizer takes advantage of centrifugal force and gravity caused by the rotation of disc, but the new type organic fertilizer granulating machine makes pellets by the granulation rotor with spirally arranged stirring teeth inside main frame.
Secondly, they differ in capability. The capability of disc granulator ranges from 0.05 t/h to 6 t/h, which is suitable for small-scale and medium-scale production of organic fertilizer pellets. However, the capacity of new type organic fertilizer pellets making machine ranges from 1 t/h to 8 t/h, which is suitable for medium-scale and large-scale production of granular organic fertilizer.
Thirdly, they differ in granulating environment. When you use pan granulator for making organic fertilizer pellets, the organic fertilizer powder production is in an open air, which may cause some dust in surrounding environment. On the contrary, new type organic fertilizer pelletizer almost is a closed space, which will not produce dust in the air.
Finally, they differ in application. The pan pelletizer is available for making both organic fertilizer and compound fertilizer. However, the later equipment is just suitable for granulation of organic fertilizer.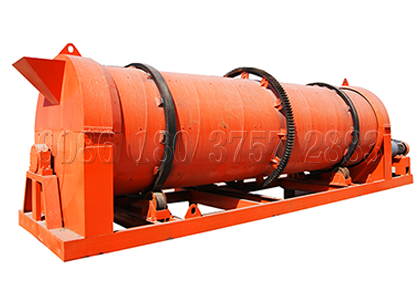 What should you pay attention to when using new type organic fertilizer granulator?
Installation and commissioning
You should fix this equipment on pre-arranged concrete platform by foot screw, which can effectively prevent the moving of equipment during operation. After fixing, you should check whether components and parts are tight. And then you can conduct a no-load test which may last for 8 hours. When you finish the test, the temperature of all components shall be no more than 50℃ . In addition, there should not be any severe abrasion and wear.
Relevant attentions for operation
Firstly, you should guarantee the right rotating direction of rotor and steady rotation before normal production. In addition, you should turn off the machine after all materials are discharged. Or the remaining material may adhere to inner wall of machine, which may affect next production.
Secondly, you should lubricate the gear reducer regularly, so as to improve working efficiency and service life. In addition, bearings also need regular lubrication.
Finally, according to our experience, malfunctions of granulator often appears in winter. Therefore, you should pay more attention to operation in winter. Too low temperature may lead to slow start and failure of starting, so you should conduct insulation measures to working places or machine body of granulator. Moreover, you should regularly check and repair transmission part and lubrication parts, so as to replace fault parts and maintain normal operation. Last but not least, you should adopt special lubricating oil for winter.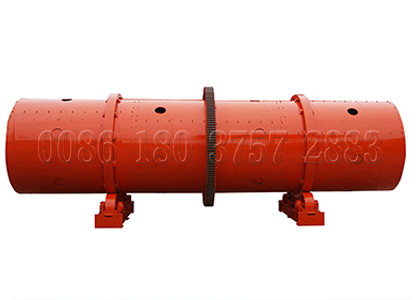 Three reasons for you to choose new type organic fertilizer granulator
As mentioned above, wet type stirring granulator is one of patented products of Henan SEEC Heavy Industry Co., Ltd. There are three important features of this kind granulator:
Compact construction and energy saving: Every part of the granulator is arranged compactly, and there is no odd part. What's more, our granulator adopt energy-saving design, which can save production cost for you.
Widespread application: You can use the new type organic fertilizer pelletizer in various organic fertilizer granulation made from different organic waste.
High pellet quality: The highlight of new type organic fertilizer granulator is high granulating rate. Meanwhile, the pellets produced by it are compact. That is to say, the organic fertilizer pellets are not easy to be broken in transport. Therefore, you can produce organic fertilizer pellets with high quality and beautiful appearance by new type organic fertilizer granulator.
Turnkey Solutions for Customers Goat Manure Fertilizer Production Line with New Developed Organic Manure Granulator


Model
SEECJZ-600
SEECJZ-800
SEECJZ-1000
SEECJZ-1200
SEECJZ-1500
Installation angle
2°- 2.5°
2°- 2.5°
2°- 2.5°
2°- 2.5°
2°- 2.5°
Capacity (t/h)
1-1.5
1.5-2.5
2-4
4-6
6-8
Total power (kw)
37
55
75
90
110
Moisture of powdery materials
20%-40%
20%-40%
20%-40%
20%-40%
20%-40%
Size of powdery materials (mesh)
50
50
50
50
50
Dimensions (mm)
4100*1600*1150
4250*1850*1300
4700*2350*1600
4900*2550*1800
5500*2800*2000