Pan pelletizer is a kind of fertilizer granulator machine, which is important equipment for granular organic fertilizer production line. After composting, organic waste has become powdery organic fertilizer. However, in order to provide convenience for later storage and application, manufacturers often make powdery organic fertilizer into pellets. For this purpose, pellet making machine is designed. We SEEC is a pellet machine supplier, who manufactures complete set of organic fertilizer production line. In terms of structure, working principle and applicable objects of pan granulator, we will provide you detailed information in the following parts.
More information about pan pelletizer for you
Our disk granulator adopts overall circular structure, whose granulation rate can achieve 93%. In addition, this equipment applies wet granulation principle. According to this point, you can add proper pellet binder for pellet making. Meanwhile, you can also add some functional bacteria, so as to make bio organic fertilizer.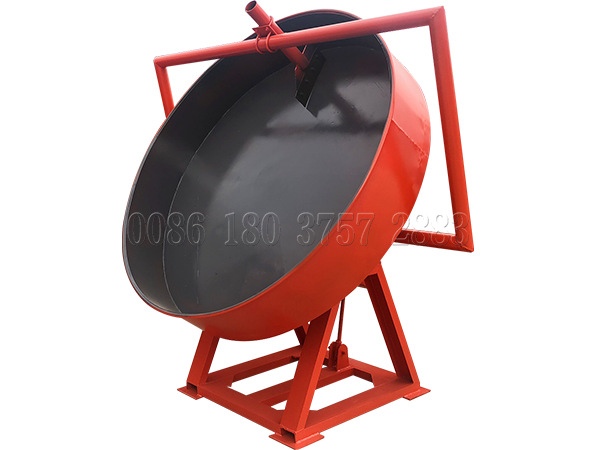 Pan Pelletizer
Model: SEECYZ-2000
Edge Height: 350 mm
Rotary Speed: 21(r/min)
Capacity: 1.2-1.5 t/h
Total Power: 4 kw
Dimension: 2260*1650*2250 mm
Construction of pan pelletizer
Disc pelletizer consists of granulating disc, driving device, device for angle adjustment, rack, liquid sprayer, scraper and so on. Moreover, there are three discharge holes, which is convenient for intermittent production, and will reduce labour intensity and improve working efficiency.
Granulating disc: The granulating disc is fixed on the central axis, which is driven by transmission. What's more, its angle of inclination is adjustable. The Smaller the angle is, the lager the pellets pan pelletizer produces is. So you can adjust inclination angle according to your requirements on granule size. In addition, the reverse side of granulating disc adopts multiple radiant steel plates, which is firm, durable and not deforming.
Speed reducer: The function of speed reducer is to slow down the speed and increase torque at the same time, which will save energy.
Scraper: This component is also important for pellet production, which can effectively inhibit powdery organic fertilizer from sticking to inner wall of granulating disc.
Pan Granulator
Model: SEECYZ-1800
Edge Height: 300mm
Rotary Speed: 21(r/min)
Capacity: 0.8-1.2t/h
Total Power: 3kw
Dimension: 2060*1700*2130mm
How does pan fertilizer work?
The working principle of pellet mill equipment is wet granulation technique. You can convey fermented organic fertilizer powder to the pellet making machine. When the granulating disc is rotating, the fertilizer powder will move along the edge of the disc due to gravity and centrifugal force. Meanwhile, spraying equipment will spray pellet binder or water, which will make fertilizer powder convert into particles. After multiple cycles, the particular will become larger pellets. Gradually, qualified pellets will accumulate in the lower part of the pan, overflow from the edge, and then enter next production stage.
What raw materials can be granulated by pan pelletizer?
Our fertilizer granulator equipment applies to granulate all fermented organic fertilizer made from all organic waste. The suitable organic waste includes manure from livestock and poultry, agricultural waste, municipal sewage sludge, food waste and other organic waste. In addition to organic fertilizer, our pan pelletizer also applies to granulation of compound fertilizer.
Mini pellet maker used for laboratory—mini pan pelletizer for sale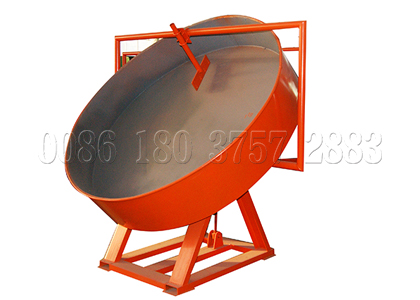 Mini Pelletizer for Laboratory
Model: SEECYZ-600
Edge Height: 280 mm
Rotary Speed: 33.5(r/min)
Capacity: 0.05-0.1 t/h
Total Power: 0.75 kw
Dimension: 800*700*950 mm
This kind of pellet manufacturing equipment have multiple models, the diameter of disc ranges from 0.5 m to 3.6 m, and the capability ranges from 0.02 t/h to 6 t/h. The mini pan pelletizer is one of our featured product. Because we dedicate to provide our customers comprehensive services, and we try our best to design equipment with multiple models for meeting different requirements. The mini pellet maker owns all functions like those of disk granulator used for commercial and industrial purpose, or small scale production. In addition, the advantages of the mini disc pelletizer are easy operation, easy transport and low cost. If you have other special requirements, we can also customized equipment for you.
What's more, the mini lab scale pelletizer we produce is not only available for laboratory, but also small scale or personnel fertilizer pellets making. The placement of it just occupies you smaller space.
How to operate the pan granulator?
Pan granulator made by SEEC is easy for operating. Firstly, you should check the direction of rotation before starting the machine, and if reducer is coated with gear oil. Secondly, when check before starting up is finished, you can start the disc granulator, and observe that if the machine is operated steadily. Thirdly, when the operation is steady, you can add raw materials for granulating and pellet binder. Finally, the pellet making machine starts to granulate raw materials. In addition, you can adjust the angle of disc to make pellets with needed size.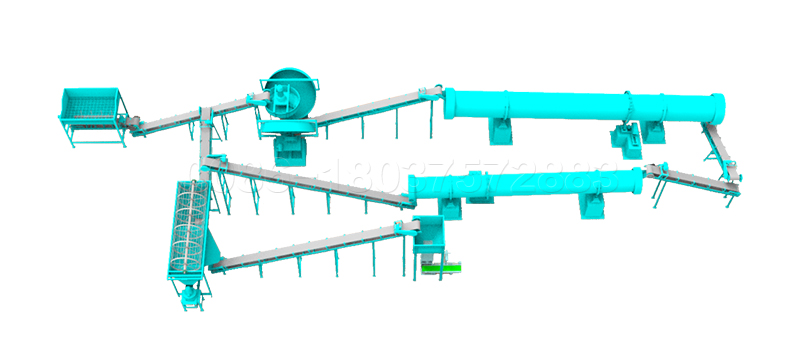 SEEC pan fertilizer granulator Specifications in the organic fertilizer production line
Model: SEECYZ-1500
Edge Height: 300 mm
Rotary Speed: 21(r/min)
Capacity: 0.5-0.8 t/h
Total Power: 3 kw
Dimension: 1760*1500*1950mm
The most reliable pan granulator manufacturer for you to choose
There may be many pellet machine supplier around you, or online. But how to choose an ideal supplier, it is not easy. Here, we want recommend ourselves, Henan SEEC Heavy Industry Technology Co., Ltd, to you. And reasons are as following:
Reasonable price: We belong to direct selling from organic fertilizer making equipment factory. Therefore, you can know about the products details more intuitively. Meanwhile, we can provide you most suitable price without any agency fee.
High-quality: We have professional team to develop and design fertilizer making machines. Hence, machines provided by us can better cater to customers' need. All machines we manufacture have quality guarantee, which adopts superior materials and reasonable structure. They are attractive in compact construction, energy saving, high efficiency, long service life and so on.
Comprehensive service: If you feel satisfied to our products, you can tell us your requirements, and we can provide your more suitable equipment. If you need a factory visit, we can make a visit plan for you. During visit, you can watch manufacturing workshop, end product workshop, and experience actual operation. What's more, if you have any problems, you can contact our engineer, who will provide you professional answer.
Professional direction: If you want to manufacturing organic fertilizer, or deal with organic waste you have, but do not how to make corresponding plan. Do not worry, our engineer can make a detailed plan according to your actual situation, capital budget and your own requirements.
Therefore, we are professional pan granulator manufacturer, welcome to choose our products.