Fertilizer bagging machine is used for quantitative packing of fertilizer, both for powder and granules. For industrial or commercial fertilizer production, fertilizer packaging is an important procedure. Generally speaking, fertilizer bagging machine is necessary for large production of fertilizer. On the one hand, packaged fertilizer is convenient for transportation and storage. On the other hand, it will cost more time to manually package fertilizer. In addition, fertilizer bagging machine can finish bagging with high efficiency and accuracy. Therefore, in industrial fertilizer production, fertilizer packaging machine is necessary. SEEC can provide auto packing machine for you, which can finish feeding, filling, weighing and packing. And we will introduce it in detail in the following parts.
Multiple SEEC fertilizer bagging machines
As we all know, there are powdery and granular organic fertilizer. Therefore, we design two types fertilizer bagging machines so as to meet different requirements. Powdery fertilizer packaging machine and granular fertilizer packaging machine are available for various organic fertilizer.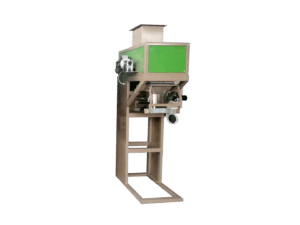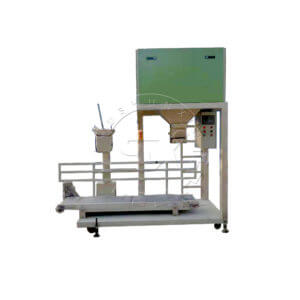 Powdery fertilizer bagging machine
After composting, fermented organic waste becomes organic fertilizer. If you want to process it with complex techniques, you can package it directly after crushing and screening. Powdery fertilizer packaging machines include packing scale without bucket, single bucket and double buckets automatic packing scales. For packing scale without bucket, there is gravimetric sensor at the discharge pot. This sensor can control the weight of organic fertilizer. It is featured with lower cost and high accuracy. On the other hand, bucket of the packing scale refers to scale hopper, which will directly prepare certain amount of organic fertilizer, so as to it can fill a bag directly. Compared with packing scale without bucket, it has higher efficiency. In addition, besides high efficiency, You can set packing scale with double buckets with two different packaging weight. That is to say, you can manufacture organic fertilizer with two different bag weights.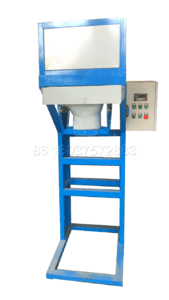 Packing machine without bucket for powdery fertilizer
Weight of each bag: 25 kg-50 kg
Packaging speed: 300-400 bags/h
Packing accuracy: 2‰
Working power supply: AC 200V 50Hz
Application: It is available for packaging various powdery fertilizer
Features: High accuracy, save energy, easy maintenance
Granular Fertilizer bagging Machine
It also includes packing scales without bucket, and bucket with one or two buckets. However, packing scale for organic fertilizer is different with that for powdery organic fertilizer. Because the liquidity is not as good as pellets, packing scales for powdery and granular organic fertilizer are different in inner structures. The inner structure of powdery fertilizer packaging equipment is more complex. You can finish the feeding of organic fertilizer by belt conveyor and a hopper for temporary storage. And the filling, weighing and packing can be finished by packing scale and one person. The scale hopper is responsible for weighing and filling. Meanwhile, it needs one person to put bags on the discharging port, and the machine will automatically fill the bag. And then the bag will enter next steps, including folding and sewing. What's more, our packaging machine has the functions of bag sealing.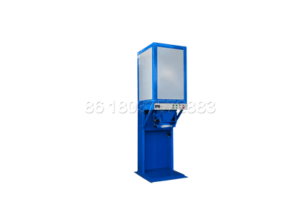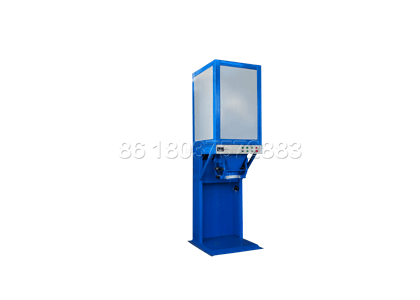 Packing machine
Model: SEEC-50
Weighing range: 25-50 kg
Packing accuracy: 2‰
Packaging speed: 300-400 bags/h
Working power supply: AC 200V 50Hz
Features: It is equipment with the function of feeding, weighing, filling and sealing.
What works can fertilizer bagging machine do?
SEEC fertilizer bagging machine can be used for filling, weighing and packing fertilizer. And you can set related parameters on the control cabinet. It is available for both fertilizer powder and granules. For the powder packing machine, it is more complex in inner structure. Because powdery fertilizer will easily block the outlet, so there is special design to deal with this problem. For the pellets packing machine, packing machine without bucket has lower cost. While, the single bucket packing machine has higher efficiency and higher accuracy. In addition, if you want to have much higher efficiency, you can adopt double buckets packaging machine. Because it not only can improve packing efficiency, but also can produce two types bagging weight at the same time. All of them can finish whole packing line, and you can choose one according to your requirements on output, efficiency and cost.
In addition to high efficiency, the weighing range of our fertilizer packaging machine is 25-50 kg. What's more, the quantitative precision of the system is 2‰. On the other hand, if you have other packing size, we can customize it for you.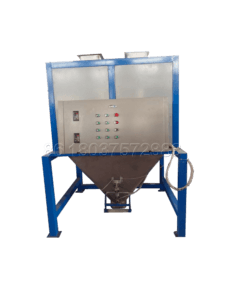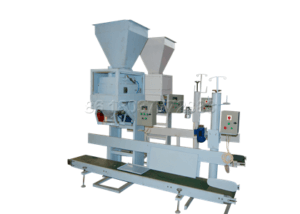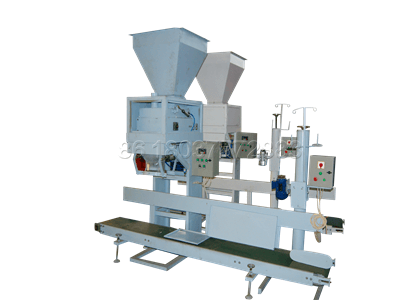 What kinds of fertilizer can be packaged by SEEC packaging machine?
SEEC packaging machine is available for multiple kinds of materials, including powdery material and granular material. And the detailed applicable objects are as below:
Organic fertilizer: Chicken manure fertilizer, food waste fertilizer, fertilizer made from sludge, pig manure fertilizer, vermicompost fertilizer and so on.
Chemical fertilizer: Compound fertilizer, BB fertilizer, NPK fertilizer, DAP fertilizer, Urea, TSP and so on.
Grain: Cereal, wheat, peanut and so on.
Whether you use it alone for packing materials or in whole production line, it can provide high efficiency for you. With the comprehensive functions of weighing, filling and sealing, it can save much costs and time than manually operation. In addition, you can set packing requirements, such as weight of every bag, on the main console.
High position manipulator palletizing machine for industrial fertilizer production
For industrial or commercial production of fertilizer, high efficiency and time are the most important things. Therefore, when you deal with large amount of bagged fertilizer, it is more efficient for you to adopt palletizing machine. SEEC high position manipulator palletizing machine can arrange the bagged fertilizer neatly and beautifully. On the other hand, it can deal with 400-500 bags per hour, which is far beyond manually stacking. What's more, the features of palletizing machine is easy operation, compact structure, high efficiency and long service life. After arranged by palletizing machine, bagged fertilizer is more convenient for storage and transport.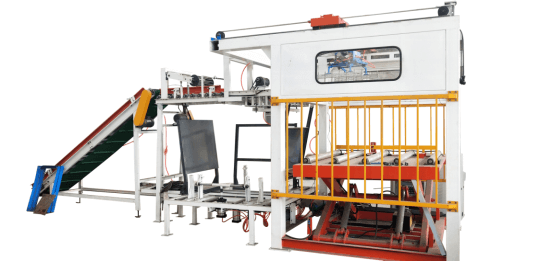 High position manipulator palletizing machine
Model: SEECMD-500
Size: 3200*2200*3000 mm
Palletizing speed: 500 bags/h
Palletizing height: 600-1600 mm
Power supply: 380 VAC 50 Hz
Stacking layer number: 1-10
Features: easy operation, high efficiency, lower maintenance cost
Where do we sell our equipment?
In the deal we have achieved, our fertilizer packaging machine is sold to India, the Republic of Korea, Pakistan, Peru, the Republic of Yemen and so on. As the end part of fertilizer production line, packaging is an indispensable step. So as a manufacturer of fertilizer packing machines, we design and manufacture fertilizer bagging machine with high efficiency. In order to meet customers' requirement on packing fertilizer in high efficiency, we design three types packing equipment. Whether packing machine is purchased with whole production line or alone, it has been praised unanimously by foreign customers.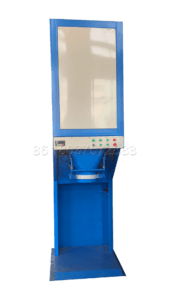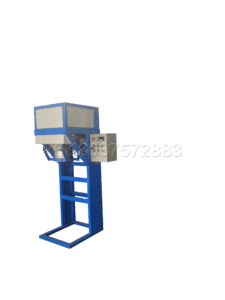 Q&A
1. Can SEEC fertilizer bagging machine automatically finish filling and sewing?
Yes. The operation of packing machine needs only one or two persons. And the detailed operation is showed in the video.